Microsoft on Monday announced a series of major enhancements to its enterprise cloud platform, as well as a new strategic partnership with Adobe, advancing its drive to attract new business from core competitors like Salesforce and Amazon.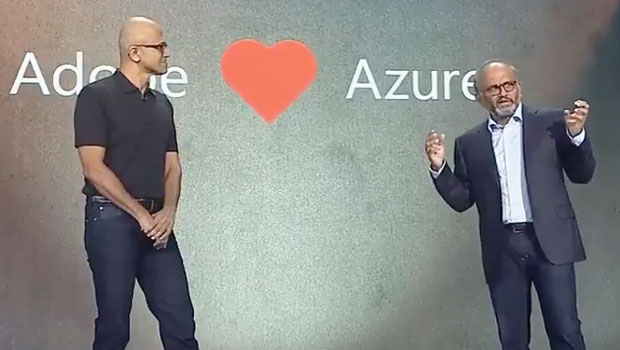 Microsoft has entered a strategic partnership to make Azure the preferred cloud platform for the Adobe Marketing Cloud, Adobe Creative Cloud and Adobe Document Cloud. Adobe Marketing Cloud will become the preferred service for Microsoft's Dynamics 365 Enterprise edition.
"I think we would both say that SaaS has completely disrupted how enterprises are thinking about software," said Shantanu Narayen, chief executive of Adobe, at Microsoft Ignite in Atlanta. "We think it's absolutely critical that we provide this integration … between sales and marketing and visualization."
The announcement of the new Azure monitoring and management updates, which allow seamless integration, was critical for Microsoft, said Rob Enderle, principal analyst at the Enderle Group.
Microsoft is the only firm that offers both on- and off-premises implementations of the same cloud-based platform, he told the E-Commerce Times.

"For ease of management for hybrid cloud solutions, which remain the IT favorite, allowing the greatest match of flexibility, performance, compliance and cost, this should put Microsoft in a position of significant advantage," said Enderle, "particularly for a global enterprise."
Adobe's move raises questions about why it decided to reduce its participation in the AWS platform, noted Ed Anderson, research vice president, cloud services, at Gartner.
It might be related to some of the intelligence capabilities now available through Microsoft's Cortana platform, he suggested.
"It's not entirely clear how or why Adobe would be interested in moving the application to Azure," Anderson told the E-Commerce Times. "Regardless, this isn't a change that can happen overnight, and it will take some work on Adobe's part to make the change."