If you're a Sony mobile device owner and wondering what are your OEM's plans for the next major update, wonder no more. The Xperia X Performance joined the Android 7.0 Nougat beta program last month, and today you can finally register for it.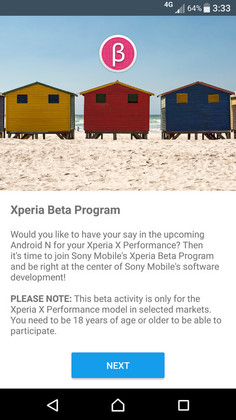 However, the registrations for the Beta program are open to users in select countries only, which includes the Nordics, Lithuania, Estonia, Latvia, Iceland, Italy, Spain, Portugal and Netherlands. To register, you need to download the app from the Google Play Store and follow along the instructions in the app.
Keep in mind that since this is a beta program, you'll be testing Android 7.0 Nougat builds before anyone else, so it's very possible that the software might not work as intended.
Do we have any readers signing up for the Android 7.0 Nougat beta program?